2006/05/25記

第一出版社
柯蔡阿李夫人訪問記(四)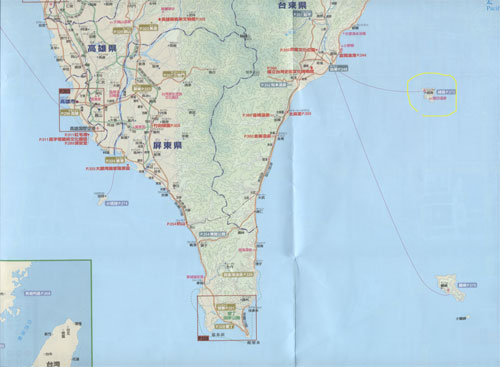 燃えよ、火燒島  柯 旗化
──1988年9月、十數年前緑島政治犯監獄で過ごした暗黒の日々を思い出して作る

島の北端の
丘の麓にある政治犯墓地
この世の地獄の苦しみを嘗め盡し
恨を飲んで死んだ獄友が
寂しくここに眠っている
暴政にあえぐ同胞を救う為
尊い命を捧げた友よ
今は人人に忘れられ
その孤獨な魂は怒濤と化して
晝は海に咆哮し
夜は濱邊で號泣する
看守の目を盗んで
墓地の傍で
暫し肩のもっこをおろして佇み
死んだ獄友に向い
頭を下げて黙祷する
西の方眺めれば
荒波吼える海の遙か彼方に
台灣の山々が私を呼んでいる
牢獄と勞働キャンプを
轉々として既に十余年
来る年も来る年も
空しく素通りして
懐かしいわが家に
何時歸れるというあてもなく
長年絶えずさいなまれて
疲れ果てたこの身は
いつまで生きて居れるやら
小聲で妻子の名呼べば
いつか目がうるむ
だがもう一人の私が
わが身を鞭打っている
たとえ力盡きて倒れようとも
私は依然として元の私であり
真理はどこまでも真理である
燃えよ火燒島
長い年月抑えられて来た
台灣人の怒りは
いつか火を吹いて
腐敗したものをきっとみな
燒き盡してしまうだろう
Burn, The Burning Island  Kua Ki-hua
――Written in Sep.1988 in memory of the dark days I had as a political prisoner some fifteen years ago on the Green Island.
[Notes]the Burning Island――an old name of the Green Island.
The cemetery for political prisoners
Located at the foot of a hill
In the northern tip of the island,
A number of fellow prisoners
who suffered hell on earth,
pocketing their insults,
are lying forlornly there.
My friends,
You offered your precious lives
to save the suffering brethren.
But now you're forgotten by people.
Your lonely spirits have changed
to raging waves,
Roar in the sea during the daytime,
Cry bitterly on the strand
during the night.
Avoiding the ward's eye
I laid down the two large
basketful of soil carrying on
my shoulder.
I stood before the grave and
prayed silently for the dead friend
with my head bending low.
Looking over the west
Far beyond the surging sea
The mountains of Taiwan
are calling me.
Traveling between prison and the labor camp
For some dozen years,
Hopelessly waiting for the day
to return home where my heart
has been lingering on.
But each year passed by
only to discourage me.
Tortured for many a year
I am quite worn out.
How much longer can I live on?
Calling my wife's and children's names
in a low voice,
I feel my eyes get wet.
However another self is whipping myself.
Even if I used up my last bit
of strength and fell down,
I'll still be myself as ever.
And truth will be truth for ever.
Burn, the Burning Island
The fury of Formosans
oppressed for so many years
will burst out some day.
The raging flames will burn out
everything rotten without fail.
=続きます=